by allancarreon on Aug.24, 2017, under Film & TV, Queer, Travel & Culture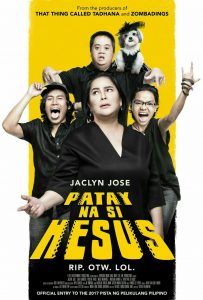 Some time last week, I saw some outraged comments on a post about the dark comedy film Patay Na Si Hesus (Jesus Is Dead), with folks crying sacrilege and blasphemy (or, in one case, "blastfemy," true story). Never mind that these folks have not watched the movie and have probably not watched the trailer, either. The moral outrage was both funny and sad given that the movie is in no way related to Jesus Christ (except for an allusion here and there) and that the titular "Hesus" is actually the name of the main character's ex-husband.
Of course, the makers knew what they were doing when they went with the title because not only is it catchy and very reflective of the irreverent humor that the film utilizes, it also triggers something visceral in this Catholic-majority country. And it worked.
But I expected nothing less from the genius people behind such fantastic breakout hits like That Thing Called Tadhana and Zombadings.
Beautifully filmed on the road from Cebu City to Dumaguete, two places I have been to and which I love, the movie takes us to so many places in between that I now have a yearning to see. Carcar has always been on my bucket list, but now I'd like to see Simala and Santander and experience the journey this family takes.
Iyay (Jaclyn Jose) is a single mother who raised her three children – firstborn Bert, who has Down Syndrome; Jude, the middle child transman who refuses to be called Judith Marie; and youngest Bert,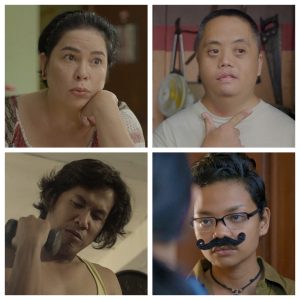 the bum who keeps on failing the board exams and also knocks up his girlfriend – into adulthood after her philandering husband, Hesus, left them for another woman. One day, in Cebu where Iyay has now rebuilt their lives with her food stall business, she receives news that her ex-husband has passed away.
This leads to a "laugh trip road trip" going to Dumaguete as Iyay unilaterally decides, despite the reluctance and protests of two of her children, that they will go to the wake and attend the funeral no matter what. Taking their dog Hudas and Jude's "stepdaughter" Mia with them, they pick up their crazy aunt of a nun Sister Lucy from the convent along the way. In a cramped "multicab" mini-van, the motley crew of a family encounters absurd shenanigans in the course of their journey.
Jaclyn Jose is an institution of Philippine cinema, and once again she proves why she deserved that Cannes Best Actress Award for Ma' Rosa. She is versatile and an acting juggernaut. This is not up for debate.

That said, what truly made this film was that, other than Jaclyn, the cast was made up of largely unknown performers who, nonetheless, were spectacular.
Vincent Viado as Bert shows that even a person with Down Syndrome can be an excellent actor. I'm particularly glad that they chose an actual person with Down to play the role as opposed to someone who does not. It's time we recognize that even PWDs have talent we cannot ignore.
Newcomer Melde Montañez as Jay has elevated deadpan responses to a whole new level. I read that he was actually a member of the crew whom they encouraged to audition for the role since they needed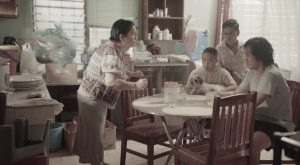 native Cebuano speakers. It was a great decision.
Chai Fonacier, however, steals the show with her nuanced yet still funny portrayal of the transman Jude, one of the most realistic LGBT characters I have seen on Pinoy film. She embodies the character so well and disappears into it that, after seeing her out of character in some social media pictures, I cannot believe it was she who played Jude. I understand she was also in Pauwi Na, another film in the Pista ng Pelikulang Pilipino festival which Patay Na Si Hesus was a part of, and my friend tells me she's also quite good in that one. Chai is definitely one actress to watch out for.
Angelina Kanapi, perhaps the most veteran of the group other than Jaclyn (having been a familiar face in many indie films), continues with her trend of… unconventional characters as she tackles the absurd Aunt Lucy. I loved her in Zombadings and Norte, and with this movie, I remain to be a fan of her work.
Continued In: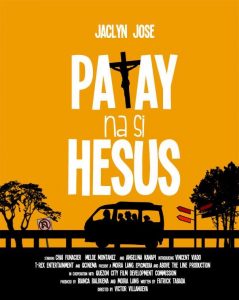 :Angelina Kanapi, Chai Fonacier, Jaclyn Jose, Melde Montañez, Moira Lang, Patay Na Si Hesus, Vincent Viado