by allancarreon on Jan.30, 2017, under Film & TV, Queer, Travel & Culture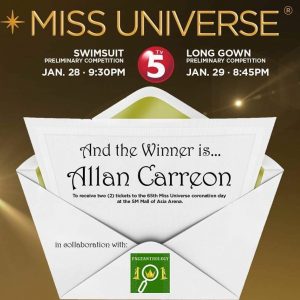 I was ready to watch this year's Miss Universe with friends while on a mini-staycation in a nice AirBnB unit in BGC. Although we'd long wanted to watch the pageant live should it be staged here once again, circumstances prevented us from proceeding.
However, when our mini-staycay started on Saturday afternoon, my friend Bj (a.k.a. Pinoy Travel Whore, the sixth person to visit all 81 provinces of the Philippines) convinced me to join a Q&A Facebook contest sponsored by TV5 in collaboration with several popular pageant-focused social media sites. The prizes would be tickets to the coronation. On a whim, I thought, Why not? then proceeded to respond to the various questions. There were quite a few, mind you, and I had to fit it in right while I was also writing the article on my personal faves for this year's pageant.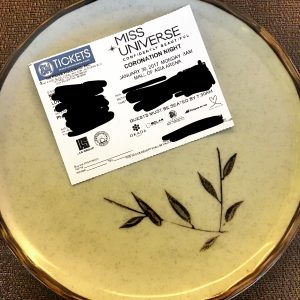 I never really thought I would win. What were the chances, really, especially so close to the show date?
Then, around noontime on Sunday, I got a private message on my personal Facebook account that I had won with the question collaborated on by TV5 with Pageanthology 101.
And thus, absolutely unplanned, but most certainly not something I would let pass, I will finally be fulfilling one of my dreams since I was just a kid.
Thank you, TV5 and Pageanthology 101!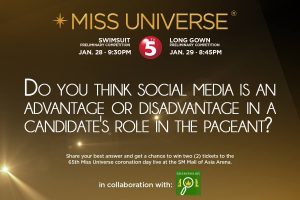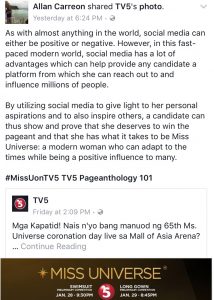 :Miss Universe, Pageanthology 101, TV5