by allancarreon on Jan.26, 2017, under Film & TV, Queer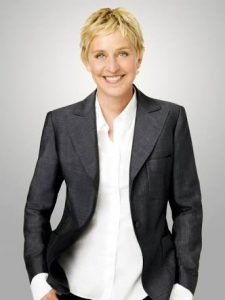 Ellen Degeneres has been inspiring generations of LGBT folks for about two decades now. Ever since she broke ground in 1997 by coming out as a lesbian, she has served as a role model not just for the LGBT community but for women as well. In fact, she is a role model for people in general, period.
She's smart, hilarious, charitable, and loves to give us what we want – lots of shirtless hot men on her show! – even if she swings the other way.
Ellen has taken over media by storm, and more than that, she's helped advance our cause tremendously.
All this while not looking anywhere near her actual age today of 58.
Happy birthday, Ellen!
This was last year's birthday video. Partly, anyway.

:
Ellen