by allancarreon on Jan.17, 2017, under Film & TV, Travel & Culture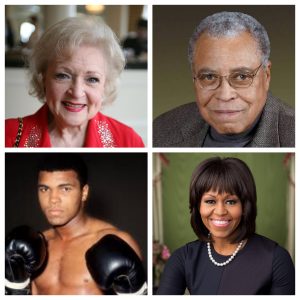 So apparently, January 17th is shared by awesome people as their birthdays.
There's Muhammad Ali, who would have been 75 today had he not passed away last year. He is the gold standard for boxers, no questions asked. Everybody else can just wish they were Ali or that they could have even 10% of his skill and talent. Moreover, he was an activist who fought for civil rights back in the day.
Then there's Michelle Obama, who turns 53 just a few days before her husband ends his historic term in the White House. Despite some fringe idiotic racist detractors, she is one hell of a classy First Lady who will go down in history as one of the best women to have been a force for good – not simply because of her husband's office but simply because of her own contributions to society.
James Earl Jones turns 86, and even at this age, he still continues to voice Darth Vader (see: Rogue One). He has also had a long list of roles – both live and voice – that will cement his legacy as one of the best performers ever. There is no voice like James Earl Jones, and there never will be again.
However, feisty Betty White – the last remaining Golden Girl – tops my list as she turns 95 years old. At her age, Betty is still fairly active in the industry, and her sense of humor is completely intact. She is not your typical grandmother, I tell you. We all want Betty White to reach beyond the 100-year mark, so universe, please be kind to this awesome woman.
An awesome woman who knows she's still hot.
All wonderful people, right? January 17 is one of the most awesome days ever.

:Betty White, James Earl Jones, Michelle Obama, Muhammad Ali