by allancarreon on Dec.30, 2016, under Film & TV, Travel & Culture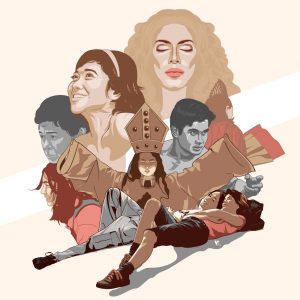 This year's Metro Manila Film Festival has certainly proven that the MMFF can have quality films and still be an astounding success despite what naysayers proclaim. The awards given out during the Gabi ng Parangal last night have also shown just how committed this year's organizers are to truly honoring only the best of the best: the truly deserving, the people who value art and culture.
And for the first time in a long time, the word parangal means something once again for this festival, and it all actually feels… right! All the awardees just feel… right, no questions asked.
Three of four of my acting awards predictions won: Paolo Ballesteros, Christian Bables, and Phoebe Walker. Paolo has already made a bit of a name for himself and will surely continue to have good projects in the coming years. Meanwhile, film people, please take notice of both Christian and Phoebe; these wins will hopefully open up more doors for them.
I have to admit that child performer Rhed Bustamante was a long shot for Best Actress, but then the great Irma Adlawan is the great Irma Adlawan, and her talent is also unquestionable. The great thing is, Rhed did get the Special Jury Prize.
And of course, I was rooting for Erik Matti – like I told my friends, I have a bias for his work – and for me, his win for Best Director is not a surprise. Seklusyon was a well-executed film, a horror story that is rare these days in local film. Direk, we're eagerly waiting for Darna and Aswang Chronicles 3; kailan na po ang mga ito? (Hopefully in the next two festivals.)
Sunday Beauty Queen won Best Picture, and it's still on my list of to-watch. It has shot up in priority now. This is a historical win, too: not only is it the first documentary to be included in the MMFF, it actually won the top award.
Even though my personal favorite, Seklusyon, did not win Best Picture, it won the most number of awards: 8 out of the 19 awards for Full-Length Feature Films (20 if we count Best Float). Thus, I'm still quite happy. Sunday Beauty Queen comes next with four awards, and Die Beautiful and Oro tie with three awards each; if we count Best Float, Die Beautiful ties with Sunday Beauty Queen.
What a wonderful MMFF this year! Here's hoping that we get this level of quality and passion for art and culture in all succeeding festivals.
The full list of winners:
Full-Length Feature Film
Best Picture: Sunday Beauty Queen
Gatpuno Antonio J. Villegas Cultural Award: Sunday Beauty Queen
Fernando Poe Jr. Memorial Award: Oro
Best Director: Erik Matti, Seklusyon
Best Actor in a Leading Role: Paolo Ballesteros, Die Beautiful
Best Actress in a Leading Role: Irma Adlawan, Oro
Best Actor in a Supporting Role: Christian Bables, Die Beautiful
Best Actress in a Supporting Role: Phoebe Walker, Seklusyon
Best Ensemble Cast: Oro
Special Jury Prize: Rhed Bustamante, Seklusyon
Best Screenplay: Seklusyon
Best Cinematography: Seklusyon
Best Sound Design: Seklusyon
Best Theme Song: Seklusyon
Best Editing: Sunday Beauty Queen
Best Musical Score: Saving Sally
Best Production Design: Seklusyon
42nd MMFF My Most Favorite Film: Die Beautiful
Children's Choice Award: Saving Sally, Sunday Beauty Queen, Vince & Kath & James
Short Film
Best Picture: EJK
Special Jury Prize: Manila Scream
Best Screenplay: Mitatang
Special Awards
Best Float: Die Beautiful
Male Celebrity of the Night: Ronnie Alonte
Female Celebrity of the Night: Rhian Ramos
:
Metro Manila Film Festival