by allancarreon on Dec.26, 2016, under Film & TV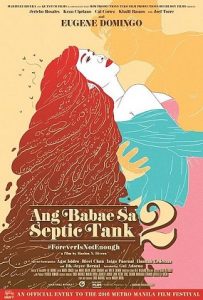 Metro Manila Film Festival 2016: Some Spoilers!
The original Ang Babae Sa Septic Tank was a hilarious sleeper hit that echoed the unexpected triumph of Kimmy Dora, the film that launched the awesome Eugene Domingo from funny sidekick into comedic superstar. In many ways, Ang Babae Sa Septic Tank – which was also our entry for the 2011 Oscars for Best Foreign Film – brought her full circle, for in it, Eugene portrayed an exaggerated and fictionalized version of herself, and who else can say they truly made it but those who have managed to satirize themselves and capture audiences?
Now, full circle comes around once more with Ang Babae Sa Septic Tank 2: Forever Is Not Enough, the still-hilarious sequel that brings Eugene back to true form as she once again lampoons herself.
Whereas the first film satirizes the "indie" film industry and its penchant for trying to be too "thought-provoking" and "deep" (as evidenced by its use of "poverty porn"), the sequel takes a jab at "mainstream" films and how ridiculous formula can sometimes be. Now, I placed indie and mainstream in quotes because at the end of the day, these labels really mean nothing other than how viewers have started to perceive these different types of films, and quite frankly, the movie itself is quite meta about these concepts.
In fact, the movie – like its predecessor – is about as meta as meta can be regarding film-making. And that is, I think, the point. If I list all things meta, it will take a much-longer article, but one thing to particularly note is how much this film practically reflects all the hullabaloo around this year's MMFF – about what audiences supposedly want in their movies, about elevating discourse in film, about the greed of big studios and why they can be so.
Eugene, as always, shines as an exaggerated version of herself – perhaps one even more difficult than her previous foray into self-mocking. She raises the bar to the point of being a complete caricature, but at a pivotal point towards the end of the movie, her disdainful self speaks out one very simple but painful truth amidst all the insane and self-serving suggestions she gives her increasingly-exasperated director Rainier (Kean Cipriano): that if he is having problems with his marriage, he should fix it and not hide behind film-making.
And in that one moment, the "villain" of the piece (if we can even call her that) suddenly becomes a voice of reason.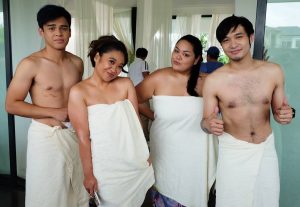 Kean Cipriano, much like his previous outing in the original, shows what a capable performer he truly is. He acts so easily that we cannot help but sympathize with him despite the inherent flaw of the character which we try to set aside but cannot ignore.
Cai Cortez, returning as Line Producer Jocelyn, is a gem as usual, and she has been quite a successful supporting actress in so many films that the discussion around the "BFF requirements of a film" is practically a meta shout-out to her. That said, her natural comedic timing and wit remain to be her strengths – and if she plays her cards right, she could follow the footsteps of Eugene.
Khalil Ramos as Lennon, the PA, has zero speaking lines throughout the entire movie, and yet he's a palpable presence and becomes a crucial piece of the puzzle at the end of the movie, and we finally understand why he is there all along. He is us. (And he's really shaping up to be a good young actor, to boot, given his various performances in the past year or so. This is an actor to watch out for.)
Joel Torre and Jericho Rosales gamely portray themselves as well, two sides of the same coin as Cesar, effectively highlighting the conflicting perceptions between indie and mainstream. Agot Isidro and my kumare Ricci Chan also cameo as themselves, both easily stealing the show in a film where stealing the show from Eugene Domingo is not an easy feat. There are a few other cameos, but I'll let you see for yourself.
All in all, this sequel is hilarious – perhaps more so than the first. It does not, however, seem to be as strong as the first one, and that's okay. It's still a great movie – certainly way more than many of the trashy films that have infected the MMFF in the last few years – and it deserves its place in this year's festival.
Bravo.
Now please, someone get me a Facundo.
My Rating: 8.5 out of 10 Stars
Starring: Eugene Domingo, Kean Cipriano, Cai Cortez, Khalil Ramos, Joel Torre, Jericho Rosales, plus lots of cameos
Directed By: Marlon Rivera
:Ang Babae Sa Septic Tank 2, Metro Manila Film Festival