by allancarreon on Jun.27, 2016, under Geeky, Literature, My Life
I went to my mentor's bookshelf sale last Saturday and left with more stuff than I planned.
My primary purpose was to acquire the cool-looking ornate crucifix she had posted because, well, Buffy. I have no idea where it's from, but there's just something Old World about it, something so very classic Europe, maybe even Eastern Orthodox, that I can't help but want it. I love that culture. Of course, it could've been from Paete for all I knew, I am ignorant of these things, but it didn't matter. It's gorgeous, and I had to have it.
So it was definitely the first thing I swooped upon when I arrived that afternoon.
Well, I never thought it would be huge-ass. But huge-ass in this case also means fucking badass.
Holy shit, look at the size of that thing.
And don't you be fooled by the brightly-colored gems that seem to say, "I'm light and lovely! Hold me!" It's heavy, with a base of what must be solid wood. When you acquire this gorgeous piece of art, you do not merely obtain an object for display in your personal worship corner; you also get a weapon that can deter any burglar foolhardy enough to try and break into your home.
Also, you could exorcise six demons and repel eight vampires every hour with this thing.
I love it.
Of course, when I showed it to one of my best friends later that day, his first reaction was, "Nakuha mo 'yan sa garage sale? Sigurado ko bang walang sumpa 'yan?"
My best friend, ladies and gentlemen.
But this is why we are friends.
In any case, with my primary target safely set aside for my taking, I went ahead to see what else I could procure.
I went wild with about twenty DVDs. Half of them are local flicks to the tune of Alma Moreno's Secrets of Pura; I only regret that Nympha and The Rape of Virginia P. were nowhere to be found. Well, we'll find these yet. Dasal lang. Dasal lang talaga.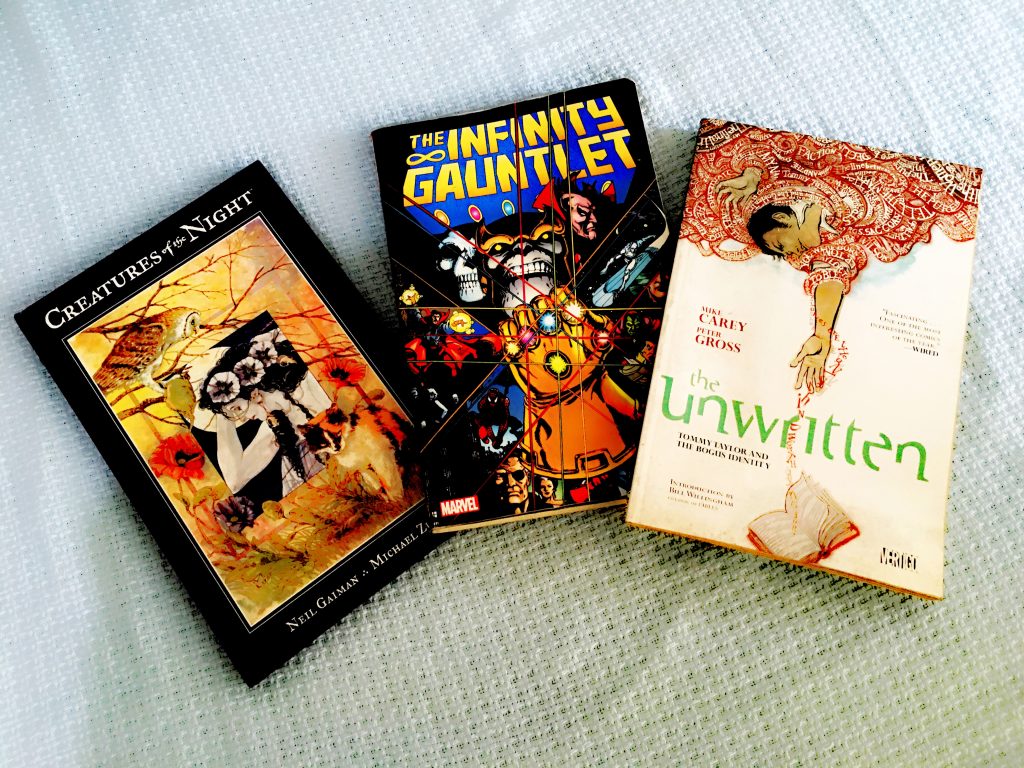 I also got some nifty graphic novels.
Anything Neil Gaiman, I will definitely devour, and more so anything that says Creatures of the Night. Jessica knew me well enough to thus simply hand it over before I even laid eyes upon it. Sold!
Vertigo's The Unwritten caught my eye, so I read the synopsis. The life of the son of a fantasy author starts taking on eerie and deadly parallels with the magical boy wizard novels of his father? Sold!
As for The Infinity Gauntlet, through a friend I read the first few issues of this classic crossover series when it was released in 1991. However, I never really finished it, and I never bought it because I was a 14-year old boy with limited resources that mostly went to DC comics instead. Still, it's a classic, and with a sort-of film adaptation on the horizon, I thought it was high time I bought the trade. Sold!
Seeing as how I'm planning out the sequel to my first novel, I thought getting this book would also be pretty interesting and helpful.
Then there are these lovely things. No, I don't have piercings, but they're quite nice, aren't they? They would be amazing brooches.
However, deadly crosses aside, the highlight of my little spree is this magnificent tome.
And "tome" is really the best and possibly the only word to describe Sherlock Holmes: The Complete Illustrated Short Stories by Sir Arthur Conan Doyle.
At a whopping 992-pages, this hardbound volume collects all 56 short stories about the world's most famous detective. No, not Batman; I said "detective," not "neurotic crimefighting cosplayer who desperately needs a vacation."
This book will also probably give you a concussion if I hit you on the head with it. In other words, I inadvertently acquired yet another weapon to defend myself in an hour of need.
That, and also a possible doorstop.
Don't you just love books that can multi-task?
I left that day feeling an unusual sense of fulfilment. I did not go to just any garage sale; I went to an arsenal and stockpiled on some artillery.
And what's more: Jessica messaged me later that day and said that there will be a Part 2 of this excellent sale on July 2nd. Oh, yeah!
So if you missed the first one, here's your chance to… not miss another one! There are loads of goodies from Jessica and her friends, and you'll surely find something that suits your tastes. Things that you can both enjoy and also use to defend yourself in an upcoming zombie apocalypse.
(The garage sale, not the zombie apocalypse.)
:books, Buffy, comics, Infinity Gauntlet, Jessica Zafra, Marvel Comics, Neil Gaiman, Sherlock Holmes, Vertigo Comic