by allancarreon on Jun.06, 2016, under Film & TV, My Life
Two years ago, during the first Write Here, Write Now workshop with Jessica Zafra, we were given an optional exercise. I don't remember the exact instructions, but I found myself writing an entire film sequence where the dialogue was composed purely of Filipino movie titles.
I don't recall ever submitting it. Finding and re-reading it now, I thank the great literary deities that my mentor never got to see it.
I think it's both hilarious and cringe-worthy. I don't think I've ever created anything so… pilit, except that time in high school where I wrote an entire poem composed only of song titles from Madonna's oeuvre.
Of course, this one wasn't written in high school, hence the tinge of shame permeating my bones as I ran through it. Proof enough of that is that I actually found a Nora Aunor / Cocoy Laurel movie titled Lollipops and Roses at Burong Talangka. And managed to fit it right into dialogue.
Still, lack of over-all sense aside, this should be good for a laugh or two. It should also tell you that being creative, successful or not, is an exercise on its own.
Enjoy!
---
MAGKAPATID
By Allan Carreon
Scene: Madonna and her maid are in the kitchen preparing for a party in the mansion. Suddenly, Madonna's younger sister Jeannie arrives. Jeannie has just discovered that Madonna had an affair with Francis, Jeannie's boyfriend.
Madonna: Jeannie, bakit ngayon ka lang? Nasaan si Francis?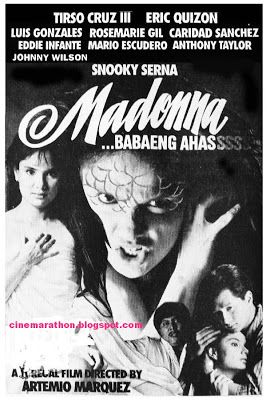 Jeannie: Madonna… babaeng ahassss!
Madonna: (looks guilty) A secret affair?
Jeannie: Matakot ka sa karma! Vampira! Corazon, ang unang aswang!
Madonna: (becomes indignant, poses) Pinakamagandang hayop sa balat ng lupa.
Jeannie: Ambisyosa!
Madonna: Babaeng hampaslupa!
Jeannie: Hanggang saan? Hanggang kailan? One night only?
Madonna: The Basement! Oras-oras, araw-araw! Yesterday, today, tomorrow!
Jeannie: Pinulot ka lang sa lupa!
Madonna: Gumapang ka sa lusak!
Jeannie: Babangon ako't dudurugin kita!
Madonna: Dahas? (looks at maid beside her) Inday, bote!
(Maid hurries off to get bottle just as Francis arrives)
Jeannie: (at Francis) Halimaw!
Francis: (looks at Madonna, realizes what happened, then turns to Jeannie) Amorosa! Babe, I love you!
Jeannie: Sinungaling mong puso!
Madonna: (butts in) Tinimbang ka ngunit kulang! Dapat ka bang mahalin, call center girl?
Jeannie: Working girl! Underage, too! Menor de edad! Bagets!
Francis: Nasaan ka nang kailangan kita?
Jeannie: On the job! Pasan ko ang daigdig!
Francis: (shakes his head) Dear heart, it takes a man and a woman. (comes closer to Jeannie) Ipagpatawad mo: marupok, mapusok, maharot. Temptation Island, nights of Serafina! (takes Jeannie's hands in his) One more chance? One more try?
Jeannie: Duda/doubt.
Francis: Maalaala mo kaya?
Jeannie: Lollipops and roses at burong talangka?
Francis: Sa 'yo lamang. No other woman. Sana'y wala nang wakas.
Jeannie: (sighs, her resolve crumblng) Bakit labis kitang mahal? Forgive and forget, maging sino ka man. So happy together.
Francis: Mahal kita, final answer!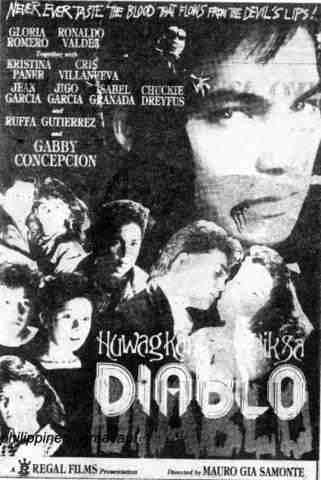 Madonna: (snickers as Jeannie is about to kiss Francis) Huwag kang hahalik sa Diablo.
Jeannie: (turns to Madonna and prepares to slap her) Galawgaw!
Madonna: (prepares to fight back) Sige, subukan mo! (pounds on chest with fist) Apoy sa dibdib ng Samar!
(Maid returns with no bottle but has something else)
Madonna: (takes what the maid brought to her) Talong?
(Maid shrugs then leaves just as Madonna and Jeannie's parents, Andrea and Asiong, walk into the room)
Francis: (approaches Asiong) Mano po. (approaches Andrea) Mano po, two!
Madonna: The Mommy returns! Nasaan ka, inay?
Andrea: Ded na si Lolo.
Madonna: (suddenly weeps) Napakasakit, Kuya Eddie!
Asiong: Anak! Ang pamana, the inheritance: White house!
Madonna: (perks up) Himala! I will survive!
Asiong: Daddy knows best!
Andrea: (looks at Madonna and notices her bulging tummy) Darling, buntis ka na naman?
Madonna: (smiles, then looks at Francis) Ama, (points to self) Ina, (points to tummy) Anak.
Jeannie: (screams at the revelation) Inagaw mo ang lahat sa akin!
Madonna: (laughs evilly) Magdusa ka! Akala mo… bituing walang ningning? Muli: tuhog! Seduction! Sex drive! Gamitan!
Francis: (shocked) Kahit minsan lang?
Madonna: (shrugs) Tuklaw! Ang saging ni pacing: kamandag! Mainit, masarap… parang kaning isusubo!
Jeannie: Engkantadang kangkarot! Impaktita! Manchichiritchit!
Asiong: (looks at Francis angrily) Kasal! Kasali! Kasalo!
(Francis shakes his head, but Asiong shakes his fist at him)
Asiong: (points to himself) Hari ng Tondo! (points to Francis) Patayin sa sindak!
Francis: (with fear in his eyes, he sighs then nods) Lahing pikutin!
Jeannie: (begins to cry and tugs at Francis' arms) Nandito ako!
Francis: (shakes his head in regret) Kung maibabalik ko lang…
Jeannie: Kung ayaw mo, huwag mo!
(Jeannie runs out of the room as Madonna continues laughing hysterically and evilly.)
Francis: (looks at Madonna) Sanib?
Madonna: (looks smug) Pahiram ng ligaya! (turns to mother) Andrea, paano maging isang ina?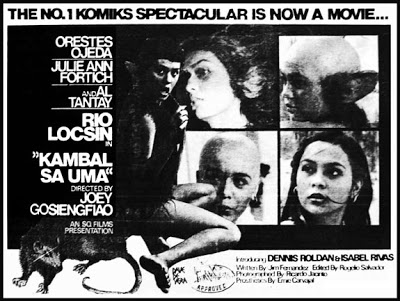 Andrea: Ang tanging ina? Wag kang lilingon. You are the one. Pagdating ng panahon, moments of love.
Madonna: (smiles as she rubs her tummy) Mga mumunting lihim: kambal sa uma, my little bossings.
Francis: God save the babies!
END
---
Jeeezus, what the heck did I write?
:humor, writing