Tag: Si-o-se-pol
by allancarreon on Oct.12, 2017, under My Life, Travel & Culture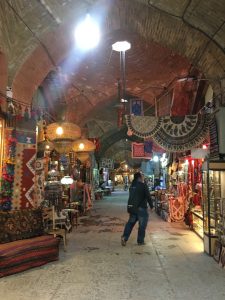 Naqsh-e Jahan Square
Isfahan, Iran
26 September 2017
About four centuries old and now a UNESCO World Heritage Site, Naqsh-e Jahan Square is a highlight of the city of Isfahan, situated right at the center of the busy city. It is surrounded by the Ali Qapu Palace, two mosques, and the Isfahan Grand Bazaar. Historic and grand, the Square has been a haven for tradesmen as well as ceremonies for hundreds of years.
The Square was commissioned by Shah Abbas as a show of power after the capital of Persia was moved to Isfahan in 1598. Designed by chief architect Bahā' al-dīn al-'Āmilī, the Square consolidates the three symbols of power of Persia into his own domain: the clergy, as represented by the mosque; the merchants, as represented by the bazaar; and his own power, represented by the palace.
Leave a Comment
:Iran, Isfahan, Isfahan Grand Bazaar, Naqsh-e Jahan Square, Persia, Shah Mosque, Si-o-se-pol, travel
more...