by allancarreon on Jul.19, 2018, under My Life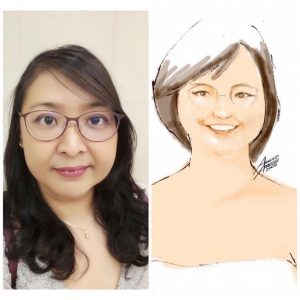 Charlie was always interesting. On our first day in class, she reiterated that she was Fernandez, not Gonzalez, and woe be to the ones who made a mistake when making submissions. This was the mid-90s, and Charlie was tired of getting papers addressed to the beauty queen.
Charlie was always supportive. She was one of my first mentors, one who encouraged me to continue writing. She believed in me. Not only did she give me a 1.0 in her class, she also used my final paper on Anne Rice for succeeding classes. She often told me the story of how my paper was stolen from her office, and after a couple of years, some student submitted it as her final work. It did not end well for that kid. I guess I should just be proud that my paper was good enough to be sold to plagiarists in those Recto thesis mills.
Charlie was always humble. She had great writing skills, and she had a book published. Every time I brought that book up, she would handwave it, saying that her essays there made her cringe now. Well, don't we all have works that make us want to leap off a skycraper later on, I'd say. It doesn't change the fact that she had talent. I still love that book.
Charlie was always compassionate. She was a great animal-lover. Her pets were a constant feature of her social media; she also ran Animal Scenes (and even got me to write articles for them, to boot!). Of course, her compassion was not limited to animals. She was a great advocate of humanity, of human rights, of protecting our lives and our liberties. Together, we regularly shut down fools because of this.
Charlie was always funny. I'm glad we became friends even after she was my teacher, as my life would have been far less richer without Charlie's hilarious Tanong Tuesdays, WTF Wednesdays, and ChisFics on Facebook. She and I would spend hours just chatting about stupid trolls (and sometimes we would troll them back). Her snarky anecdotes about their flirtatious maid, some crazy interns, and a lot of entitled socialites were just gold.
Today, Charlie would have been 45.
Charlie passed away last month, one day before Independence Day. She had been having health issues for years now. She never shied away from sharing the struggles she had, though it was never self-pitying. She always made her hospital trips – and the issues she had with Grab drivers and nurses along the way – sound painfully hilarious.
That was Charlie for you: always seeing the funny side of things.
We had long been planning to see each other again, even if only for coffee, but it never happened. It's perhaps one of the biggest regrets I have – that for one last time, I never got to see one of the best people on this planet, that we never had that one last laugh, or that one last little bit of story that would've made my day.
Happy birthday, Charlie. You are sorely missed.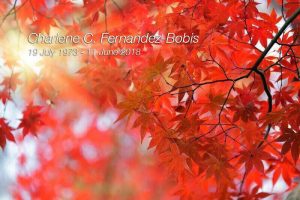 All photos courtesy of Charlene's Facebook.

:friendship, mentor