by allancarreon on Nov.30, 2017, under Geeky, My Life

My friends and I have been getting a kick out of Mystery Manila. It's an entertainment facility that specializes in themed escape room fun.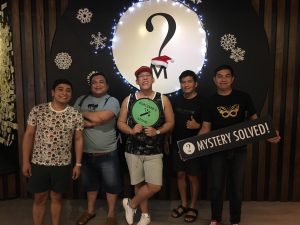 We first tried it in the Century Mall branch a few months ago, but we failed to crack open and escape their Mutants' Mission, which is an X-Men inspired challenge.
Last weekend, we decided to give it a go again, this time taking on the Sorcerer's Stone challenge in the Ayala Mall at the 30th. While we didn't beat the displayed records and we required a couple of clues, we solved it with enough time to spare.
Looks like we found a new bonding activity! We're now planning to sweep all the escape rooms across all sites.

:
Mystery Manila
Welcome to my mind...

... enjoy your stay!

Search