by allancarreon on Oct.25, 2017, under Film & TV, Geeky

Just when you thought you've seen everything, along comes this epic recap rap of Arrow Seasons 1 to 5.
I still feel Arrow remains the best of the CW DC shows despite some low points. It remains fairly grounded, and Season 5 really brought it back up to its game. I have to say, though, that Season 6's first episode was a letdown with its reveal of who survived last season's cliffhanger (hint: no one of importance really died, thereby negating the stakes). That, and another rehash of "secret identity exposed;" this is the gazillionth time we've been through this. Still, it remains to be promising.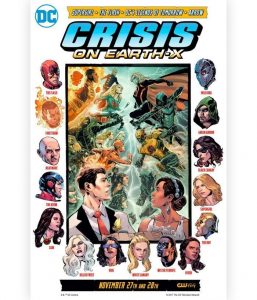 Legends of Tomorrow and Supergirl alternate between second and third place for my favorite. Currently, it's LoT on advantage; it's just pure fun. The cast is amazing and really enjoyable. It also really reaches deep into DC lore. Supergirl, meanwhile, has found a solid foundation, especially with Mon-El and Lena in the mix. My only recent complaint is how they portrayed Kara in the recent return; girls going stone cold because of lost lovers is a trope I can do without unless done well.
Flash has deteriorated into whining whining whining, and Barry has become exasperating for never learning his lesson and for repeating the same mistakes. He's also pretty selfish. I was never convinced that Grant Gustin was the right person to be Barry Allen; I watch that show now only for Caitlyn, Cisco, and Wally. Thank goodness they're doing away with a speedster Big Bad this season after three seasons of the same thing over and over again.
In any case, this year's crossover will look to be exciting as we see Earth X cause a little Crisis for our heroes. The Arrowverse remains to be a TV-land I look forward to.

:Arrow, DC Comics, Flash, Legends of Tomorrow, Supergirl