by allancarreon on Jul.25, 2017, under Film & TV, Geeky, Society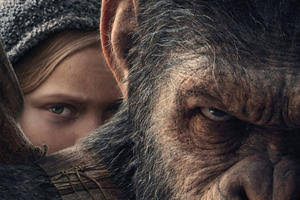 To echo my mentor Jessica, War for the Planet of the Apes is perhaps one of the most human films of 2017 so far. In contrast to its predecessor – where humans were caught in a power struggle between two factions of apes – this new film in the series showcases apes caught in a conflict between two factions of military men.
Despite the simian nature of its primary protagonists, they are perhaps the most human characters of the entire movie. Conversely, and ironically, it is the human characters who are ultimately devoid of humanity. Like the rest of this film series, the movie is a commentary on human nature and what makes us tick – and what makes these simians who have become humanlike tick.
The film raises a lot of ethical questions for which there is no clear-cut answer. Often, it is a question of the good of the individual versus the good of the many. There is never any easy way to instantly judge, for example, the brutal colonel played by Woody Harrelson: at the surface, he is ruthless and textbook evil, but when you realize that despite the twisted thought process there is a reason to his anger, you start doubting what is the right answer when the consequences are life or death.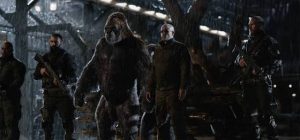 On the other side of the equation is Caesar, the alpha ape who in the past has always proven to be the most noble and merciful of his kind. This time, the complexity and depth of how human he has become is explored when his desire for vengeance is tapped by tragedy. How he deals with it, including his guilt and fear of becoming his old rival Koba, is a fascinating insight into the human psyche.
Left and right in this film we see the same kind of study of the human condition. From the different apes – Maurice, Red, Winter, Rocket, Bad Ape, Luca, Lake – to the humans like the colonel as well as Preacher and mute Nova, the film tells us that ultimately one's humanity is defined by the choices and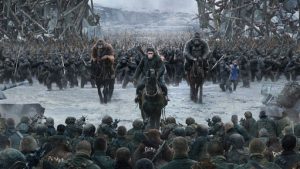 actions one takes and not by simple genes. It becomes a humbling experience to then realize just how often we can fall into a primal, animalistic state as opposed to standing tall in our humanity.
In many ways, despite the very different genres and situations, this movie reminded of 28 Days Later. It is a world where humanity is on the brink of extinction. Do we react as humans, or do we give in to our basest of instincts and become worse than those we fear the most?
My Rating: 8.5 out of 10 Stars
Starring: Andy Serkis, Woody Harrelson, Steve Zahn, Karin Konoval, Terry Notary, Ty Olsson, Michael Adamthwaite, Aleks Paunovic, Amiah Miller, Gabriel Chavarrial
Directed By: Matt Reeves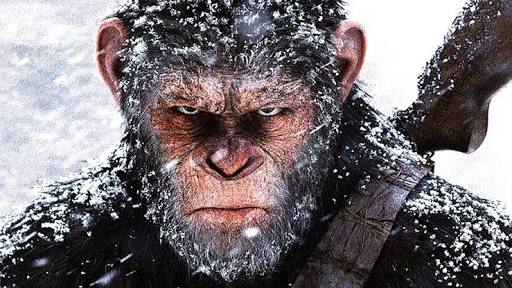 :Andy Serkis, Steve Zahn, War of the Planet of the Apes, Woody Harrelson