by allancarreon on May.24, 2017, under My Life, Travel & Culture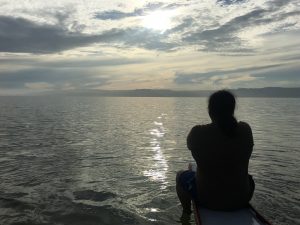 On Tuesday morning, we woke up before the crack of dawn for the busy day ahead. It was great that we were staying in U Pension House, a convenient and recommended hostel across Silliman, as it afforded us quick access to rides in the wee hours of the morning.
Our first stop was Bais City, where a pre-arranged boat ride with a local would bring us to the heart of Tañon Strait, the strip of water that separates Negros from Cebu Island. What we wanted to see were the popular sandbar of Manjuyod as well as dolphins in the wild. The former is easy, while the latter can be random. We were lucky to have caught the latter early in the day.
The Manjuyod white sandbar was great, though unfortunately our timing was not the best. During low tide, almost the entire section of the sea would pretty much rise and become an expansive sandbar. However, it turns out that this season, this happens late in the afternoon – and even more strikingly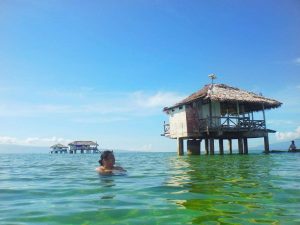 during the full and new moons. That said, the waters were still pretty shallow when we went – wading level, in fact – and overall it was still beautiful. A part of the sea also had pseudo-stilt houses one could rent; the pillars were slightly submerged at that time, though apparently these are completely on sand during low tide.
The highlight for me, on the other hand, was to see a school of dolphins. As noted above, these can be by chance, but we were lucky to have seen them – and for a significant amount of time. Typically, multiple boatmen would spread across the sea looking for them, then once a school is found by a boatman, the rest would congregate. Lucky for us, we were the first to find a school, and it was early so not many other parties were nearby, so we got to see the dolphins more closely and for much longer.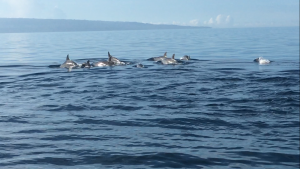 I love those dolphins and wanted to jump in and swim with them. Which of course I could not do. But it's nice to dream. They did seem to be putting on a little show for us, as though they knew we were watching and they wanted to boast with their snychronized dives and occasional flips. The fun ended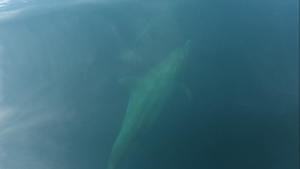 when more (bigger and noisier) boats arrived; perhaps the poor things got scared and didn't appear as much. Nonetheless, we were satisfied at having seen these gorgeous creatures of nature up close.
We headed back to Dumaguete a little before noon. We rested for a couple of hours, freshened up, ate a rather quick lunch, then went on our way to Valencia City just outside Dumaguete and going inland of Negros. We were off to see Pulangbato Falls (also known as Malabo Falls, after the barangay it's located in).
Pulangbato is so named because red rock formations give the waters a reddish hue. However, strong rains can cause the waters to be clearer because the volume of water could "cover up" the redness coming from the rocks. This was the case when we went there, as it had been raining the past several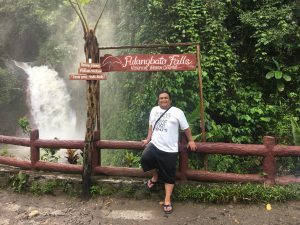 days and the amount of water falling was quite a lot. Nonetheless, it was still beautiful, and one can see the red rocks as one traversed one's way around.
Apparently, the rocks are red due to sulfur content coming from Mount Talinis, the island's second highest peak after Kanlaon. Mount Talinis is a complex volcano that, per one of my readings, also helps provide geothermal energy to Negros Oriental. This also explains the apparenrly toxic natural gas emissions we saw by the mountainside along the highway on the way to Pulangbato; "toxic" didn't really stop us from taking a few quick snapshots. The volcanic activity also explains the prevalence of hot springs in the area where you can swim in.
Getting to Pulangbato is fairly easy. We took a tricycle from Dumaguete, making a deal with the driver to wait for us. It's a significantly cheaper option than renting a van if you are just a handful of travelers, and it was about half an hour. It does take some time to go up the mountain, and you'll also need to cross the river on foot before taking a 15-minute upward hike.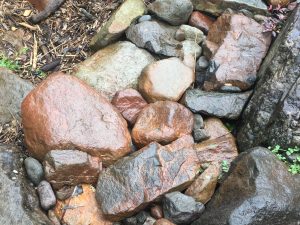 The hike which my friends took, I ignored in favor of hiring a habal-habal at 25 pesos per head per way; it was only a couple of minutes, and on the way down, my friends decided to do that option as well.
Due to time constraints, we decided to forego exploring Casaroro Falls, which was a little farther away. We'll come back next time to see that and the other places we had to skip this trip.
We were back in Dumaguete at past 4PM, where we passed out from exhaustion for a few hours before heading off to dinner, though Robin was still in dreamland so it was just me, Bj, and Norlan. We wanted to try Hayahay as recommended by a friend of Bj, but when we arrived, it was a bit too noisy for us due to the live band (yes, we're getting older). We then chose to go to Lantaw two doors down, and since we had a great experience in Lantaw in Cebu a few years back, it was a great choice. Food is cheap and in huge servings, and most importantly, delicious. Too bad they ran out of the rock lobsters, which were (comparatively) inexpensive.
Over-all, our penultimate day in our Negros road trip was exhaustingly worth it.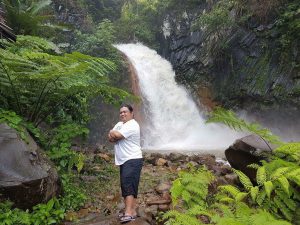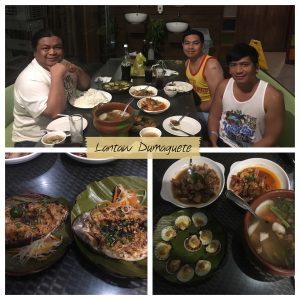 :Bais City, dolphins, Manjuyod Sandbar, Negros, Negros Oriental, Tañon Strait, Valencia City