by allancarreon on Mar.31, 2017, under Film & TV, Geeky, Queer

Season 7 Credits
Continued From:
Buffy Week, Day 6: Man, Just Ascend Already.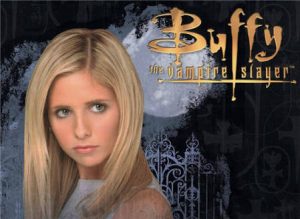 Back in March 1997, Joss Whedon started a pop-cultural phenomenon when he brought his quirky creation Buffy the Vampire Slayer from its failed 1992 movie roots into television. Since then, the Buffyverse has proven to be one of the truly long-lasting and timeless geekeries ever.
To this day, 14 years after the show ended on TV, it still remains in the consciousness of the many viewers it touched back then and still gains new member to its cult following. Spin-offs, comic books, action figures… heck, Buffyspeak still makes it to the lips of the new generation. It has also spawned numerous academic studies and has been well-regarded by various groups, including the LGBT community.
Buffy, like her immortal nemeses, may be dead but she will never truly die despite being gone.
And yes, she'll always be pretty.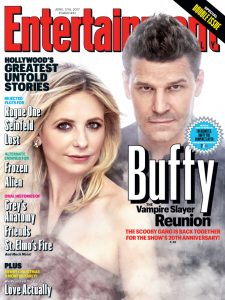 In the meantime, just as I was working on this final post for my personal Buffy week, Entertainment Weekly announced that their next issue (coincidentally out today as well) will feature a reunion of the cast in honor of the anniversary!
The only sad thing is that we didn't get to have Anthony Stewart Head (Giles), Marc Blucas (Riley), Tom Lenk (Andrew), Robia LaMorte (Miss Calendar), and Eliza Dushku (Faith) join. They were Scoobies, too! Giles and Faith are particularly glaring absences, but they unfortunately had prior commitments, it seems. And of course, while he was in the interviews and his own solo official photo, Nicholas Brendon (Xander) didn't seem to have made it to the big cast gathering as well.
But hey, five by five, right?
Because this is still awesome:
So for now, as we bask in that awesomeness, here are some more of my favorite Buffy moments. Just a few of them because, really, it could take days for me to share them all.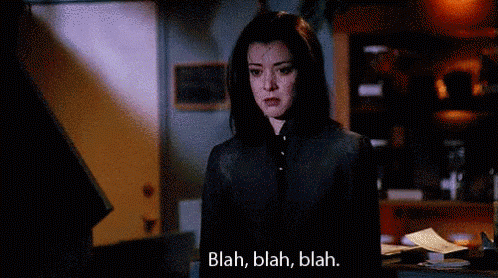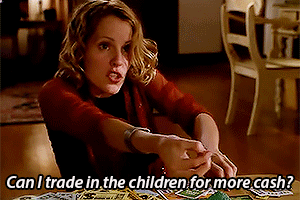 Buffy may have been "just" a niche TV show to some people, and perhaps not everyone got it or will get it. However, its place in genre history as well as television and pop culture royalty can never be denied. Its impact to millions of fans worldwide could never be stated enough.
All in all, not bad for the blonde teenager with the wooden stake.
I'm definitely suffering from some Buffy missage.
Time to dig out those DVDs.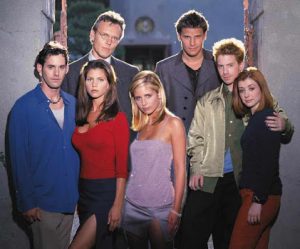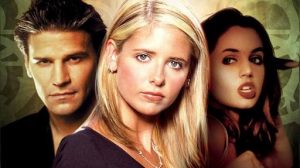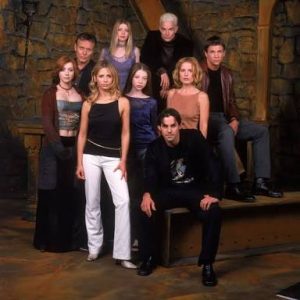 Read the rest of Buffy Week on my blog!
Buffy Week, Day 1: Monsters Had Nightmares About Her
Buffy Week, Day 2: Also, There's A Really Big Snake.
Buffy Week, Day 3: Five By Five
Buffy Week, Day 4: This Isn't Just Some Fanboy Thing.
Buffy Week, Day 5: So Evil And Skanky And Kinda Gay
Buffy Week, Day 6: Man, Just Ascend Already.

:
Buffy the Vampire Slayer