by allancarreon on Mar.13, 2017, under Film & TV, Geeky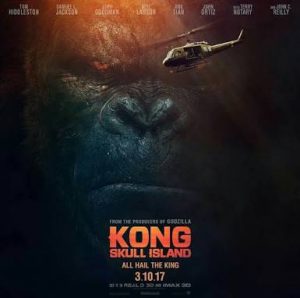 Kong: Skull Island on the surface offers nothing significantly new besides the tropes already associated with the franchise: man versus nature, man as the actual antagonist, man getting involved in something he should not be involved in, misunderstood and ultimately sympathetic giant ape, woman develops emotional connection with ape.
But it does have a very delightful and engaging advantage.
Tom Hiddleston's biceps.
Well, okay, that's one.
And Brie Larson's photojournalist is a woman who finally dresses sensibly for the expedition she's joining. No high heels while running from prehistoric creatures, that's for sure.
In all seriousness, however, Kong does transpose the general story associated with the great monster and his ilk into slightly different territories to give it a new feel and a new direction.
For one thing, it sets the tale in a post-Vietnam War climate, where the recently-ended war has deep effects upon many of its characters. It's probably not a coincidence that the visuals and setting somehow echo the film classic Apocalypse Now, which is set during the said war. The traumas deeply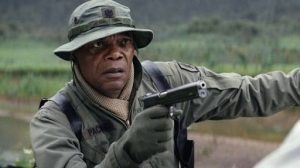 affect the many military characters onboard, especially Samuel Jackson's Lt. Col. Packard, who refuses to accept the defeat of the Americans in the war and projects his anger against the titular monster, even when it has become evident that the giant ape is not the true hostile they need to be fearful of.
This is a different take of the human nature that we've often seen delved into by the franchise. Man is not driven by greed or lust for glory here, as are often the case in King Kong films, but rather vengeance and rage.
For another, Kong becomes the de facto Batman V. Superman: Dawn of Justice to the 2014 Godzilla's Man of Steel. By that, I mean that this movie plants the seeds to the larger MonsterVerse that the studio is building for its properties. Godzilla, like Man of Steel, was originally planned as a self-contained universe until they decided to create this shared universe – and the second film starts building on it.
And ultimately, this is what excites – for we see shades of what is to come, what manner of possible beasts are out there, and in a post-credits scene, we circle back to the organization Monarch – which played a significant role in Godzilla. And we see depictions of a wide array of monsters – a congregation, if you will – that Monarch seems to be either tracking or researching… including, of course, Godzilla.
We will see them clash head on in 2020's Godzilla Vs. Kong (right after the 2019 sequel Godzilla: King of the Monsters).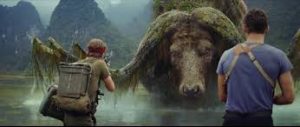 Now it might seem that there's a bit of digression here from Kong, but that's largely because – while the film is well-made – it tends to be fairly thin on plot, although there are a lot of good character studies. All that, however, take a backseat to the action, particularly when monster meets monster, and it is exactly what we're looking for in this movie.
In other words, it is still extremely entertaining.
And once again: Tom Hiddleston's biceps.
My Rating: 8.5 out of 10 Stars
Starring: Tom Hiddleston, Tom Hiddleston's biceps, Samuel L. Jackson, John Goodman, Brie Larson, Jing Tian, Toby Kebbell, John Ortiz, Corey Hawkins, Jason Mitchell, Shea Whigham, Thomas Mann, Eugene Cordero, Will Brittain, and John C. Reilly. Terry Notary does motion capture for Kong.
Directed By: Jordan Vogt-Roberts

:biceps, Kong