by allancarreon on Feb.03, 2017, under Film & TV, My Life, Queer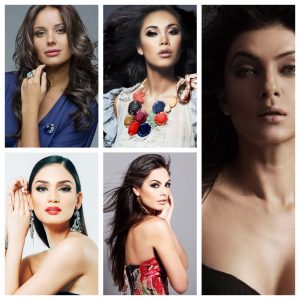 Continued From:
Here I proceed with the second half of my list of my Top Ten Favorite Miss Universe winners ever, presented in chronological order.
Sixth is none other than Sushmita Sen, India's first Miss Universe. Sushmita is not just in my Top Ten; she's in my Top Three. She is, in my opinion, still the smartest and wisest of all winners. She also has a special place in Pinoy hearts, having won here in 1994. Along with Dayanara, she recently returned to judge the Miss Universe contest, and Sushmita looks even better than she did when she won. She's still as classy and as profound, too. I love Sushmita!
2002's Oxana Fedorova (Russia)
Oxana Fedorova is the one I consider the most beautiful of them all – and she would be part of my Top 3 if I had to trim this down. Oxana might not have finished her reign, and "official" Miss Universe lists reference her replacement. However, to me, Oxana will always be the one true queen of her year, and she remains as beautiful as ever.
Eighth is Japan's Riyo Mori! She is Japan's second winner, having won literally 48 years after the first one was crowned (the bekis will get the "48 years" reference). I find her really pretty, but I think what really sold me on her was her out-of-the-box gown and how she carried it. This is a woman who takes risks and celebrates uniqueness, I think. Love this lady!
2010's Ximena Navarette (Mexico)
Then there's Mexico's Ximena Navarrete. Although she wasn't my favorite back then, she grew on me as the years went by. I find her features quite eye-catching. I think she has a classic beauty you can just look at all day long.
2015's Pia Wurtzbach (Philippines)
Tenth is none other than our very own Pia Wurtzbach. Who else could it be? Representing the culmination of Philippine dominance of the pageant since 2010, Pia proved just how much perseverance and determination really help in achieving one's dreams. Moreover, she has raised the standards of what being a Miss Universe should be. Pia's reign may have already ended, but she will always be a queen.
And there you have it. My ten favorite Misses Universe. Who are yours?
:
Miss Universe