by allancarreon on Feb.01, 2017, under Film & TV, My Life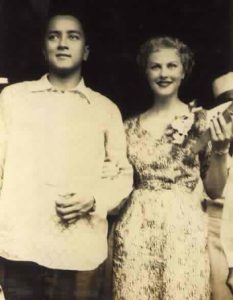 Finland's Armi Kuusela, Miss Universe 1952 and the first winner of the crown, married a Filipino, Dr. Virgilio Hilario.
Virgilio's mother was a relative of Nana Enchang Javier-Gonzaga, my great-grandmother. This makes Virgilio a cousin of my maternal grandmother, Mommy Queta Gonzaga-Ignacio (who turns 96 this February!), and her siblings: Lola Belen, Lola Noneng, Lolo Carlos, and Lolo Eddie.
This also thus makes Miss Universe 1952 our relative by marriage.
No wonder I love Miss U. It's practically in my blood.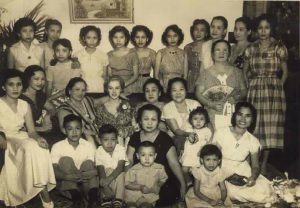 Like the other pictures in this article, the above picture is in one of our family albums. The following are the people I know and were also identified by my grandmother.
Seated, 4th from left (i.e. middle): Miss Universe 1952, Armi Kuusela
Standing, 4th from right: Mommy Queta (my grandma)
Seated, 1st from left: Lola Rosette (sister-in-law of Mommy, wife of Lolo Eddie)
Seated, 2nd from left: Lola Nora (sister-in-law of Mommy, wife of Lolo Carlos)
Seated, 6th from left, two ladies away from Armi, and holding the little girl: Nana Enchang, my great-grandmother (mother of Mommy and her siblings; Lorenza Gonzaga née Javier)
Kneeling at the far right in front of the lady with the fan: Tya Kika
Little girl in Nana Enchang's arms: That's my mother, Lily! She was probably around 2-4 years old in this picture. Maybe it's why she became a beauty queen later on, also.
Not in picture: Lola Belen and Lola Noneng, my grandmother's sisters.
Also absent are the men: Lolo Carlos and Lolo Eddie, though their wives are here, plus the in-laws like my own Lolo Dadong and also Lolo Ilyo. With the exception of the little boys in front, perhaps this was a ladies' gathering?
Sadly, Lolo Virgilio passed away in 1975, leaving Armi behind with their five children. She later remarried to an American diplomat, with whom she remains to this day. She also is still an active lady for her age, particularly in charities.
She is still beautiful and truly worthy of the distinction of being the first Miss Universe.
Queen Armi in 2011

:Armi Kuusela, Family, Miss Universe