by allancarreon on Dec.04, 2016, under Film & TV, Geeky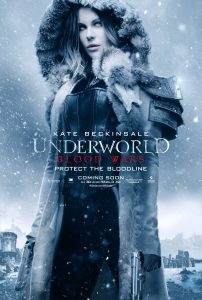 Despite the consistent low critical reviews across the series, I've always been a huge fan of the Underworld films.
Admittedly, the fourth film (Awakening) was a so-so follow-up, particularly since I wasn't fond of the time jump from the second film (the third was a prequel) and I thought the different direction it took wasn't much to my liking. The characters from the first two films mostly disappeared (to be fair, many of them were dead), and there seemed to be too much scientific mumbo-jumbo. Now, Underworld has always tried to be a little bit more grounded than the usually-mystical vampire/werewolf films, but the the fourth film took it to "evil scientists" levels that I thought didn't work well and made the mystique of the series falter a bit.
So here comes Underworld: Blood Wars, the fifth film that was just released in the Philippines (sorry, USA, I think you have to wait until January), and it has set the series back into a more classic path. We see covens and court intrigue. We see soirees, and we see bloody wars. We see betrayal and manipulation. We touch upon the rich history of these races. We see a world that is grandiose and sophisticated yet deadly in its grace. It is gloriously Old World in the modern times, not just simply… modern.
Basically, Blood Wars brings Underworld back to its roots and closes the loop on a number of storylines from the first movies.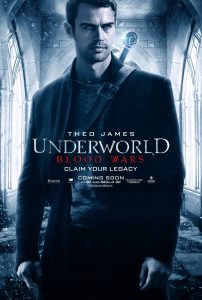 My favorite is how the enigmatic Grand Elder Amelia also fits into the big picture. The Old World Elder who was the awakened ruling leader during the first film barely registered onscreen – someone supposedly so powerful dispatched so easily and unceremoniously, which always dumbfounded me – but she always fascinated me more than Viktor or Markus, and I wanted to know more about her. Alas, the sequel gave little information about her. Well, now, although there remains a lot of backstory that one can dig into about her, Amelia's presence is felt so much more despite her demise, and her legacy is explored and cemented well.
The other key area addressed is Michael. Oh, Michael, poor Michael. Whatever did Scott Speedman do to not have been included after the second film? Awakening did use the character in flashbacks as well as a bit in the present, but it was all so open-ended. Now, we finally have closure, but personally, I'm not quite happy with this closure, but perhaps it's time to move on to the next chapter of this world, especially with the new status quo of Selene, David (who first appeared in Awakening), and the new lady on the block, the Nordic vampire Lena.
What I also appreciated is how much has been added to the existing mythos that fit so well into this world. There really is much to explore in this universe.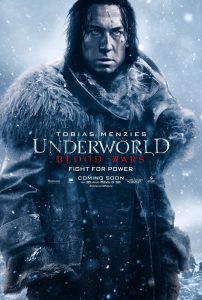 Now, I think I need to say that with every film, Selene's power seems to keep on getting an upgrade. At this rate, by the time the planned sixth film is released, she'd be some kind of goddess.
Kate Beckinsale still owns her role as Selene, and I'm led to believe she herself is a vampire as it doesn't seem like she's aged since the first film was released thirteen years ago. Theo James has also come into his leading role as David, a character who I thought was meh when introduced last film but who has now significantly become more intriguing as his heritage is explored.
The rest of the cast is fantastic, particularly Lara Pulver and Bradley James. Tobias Menzies – who portrays the primary lycan antagonist Marius (and whose geek cred is certified with prior roles in Rome, Doctor Who, and Game of Thrones) – is also quite great, although I feel the character himself lacked sufficient development. All of them inhabit this fascinating Old World setting so seamlessly – from the decadence of Eastern Europe to the icy cold of the North.
All in all, I suspect this film will probably get negative reviews given the history of the franchise, but I don't really care. I found it massively entertaining, and it definitely touched my imagination once more as I wonder about what else is out there in this dark, dark world of vampires and lycans.
My Rating: 8.5 out of 10 Stars
Starring: Kate Beckinsale, Theo James, Tobias Menzies, Lata Pulver, Peter Andersson, Clementine Nicholson, Bradley James, Charles Dance, James Faulkner, Daisy Head, Oliver Stark, Brian Caspe, Trent Garrett
Directed By: Anna Foerster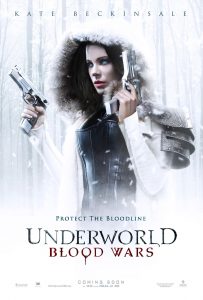 :
Underworld