by allancarreon on Nov.23, 2016, under Film & TV, Geeky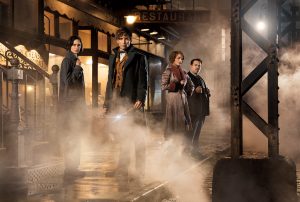 Newt Scamander's suitcase is the largest Poké Ball in the world, and it's best that you go and see him use it grandly as he goes around 1920s New York trying to catch some rather Fantastic Beasts, indeed.
All this, plus a rather powerful metaphor and discourse around the very real horrors of child abuse and what its impact can be.
Yes, underneath the dazzle and fantasy subtly lies a film that is darker and, perhaps, more mature than prior films. And this evolution can only be a good thing.
Me? I plan to watch it again, this time on 3D. Harry Potter's world is back, and it's time to experience a wonderful new magical age.
My Rating: 9 out of 10 Stars
Starring: Eddie Redmayne, Katherine Waterston, Dan Fogler, Alison Sudol, Ezra Miller, Samantha Morton, Jon Voight, Carmen Ejogo, and Colin Farrell. Oh, and make sure to watch out for a certain Captain Sparrow.
Directed By: David Yates
:
Harry Potter