by allancarreon on Nov.22, 2016, under Snark, Society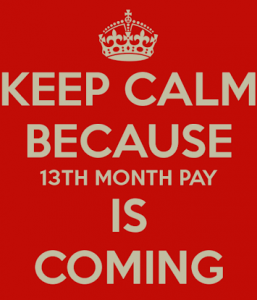 Let's do Taglish para mas intense!
—
Warning: actual facts and sources cited, so kung fact-resistant ka, baka lagnatin o magkarashes ka sa post na 'to. Uminom ka muna ng Bioflu o anti-histamine before daring to read.
Para sa mga bobong uninformed at hindi marunong magresearch:
1. Ferdinand Marcos did sign a 13th month pay decree on 16 December 1975… but this applied only to employees who were earning less than Php1,000.00 a month at that time.
2. Cory Aquino was the one who, on 13 August 1986, modified the law by removing the salary ceiling and mandating 13th month pay for all rank-and-filers, regardless of basic pay.
3. The current law only mandates 13th month pay for rank and file employees.
Kaya kung less than Php1,000.00 ang sweldo mo kada buwan, congrats! Pasalamat ka kay Marcos sa 13th month pay mo kung naghahanap ka ng papasalamatan.
Kung rank-and-filer ka at mas mataas pa sa Php1,000.00 ang sahod mo kada buwan, at sa tingin mo may dapat pasalamatan, si Cory ang pasalamatan mo.
Kung managerial employee ka, at sa tingin mo pa rin dapat may pasalamatan, ang pasalamatan mo ay ang kumpanya mo dahil prerogative na nila na bigyan ka ng 13th month pay benefit kahit hindi naman sila inobliga ni Marcos o Cory na bigyan ka ng 13th month pay.
Pero sa totoo lang, sarili mo ang dapat mong pasalamatan para sa 13th month pay mo dahil ikaw ang nagsikap kitain yan, hindi si Marcos o Cory.
Oo, kahit ang kinikita mo bilang Troll Agent sa Troll Center ng Fakebook accounts.
—
Sources (allergic ang mga bobo sa sources and facts).
1. Marcos' decree, covering employees earning less than 1K:
http://www.chanrobles.com/presidentialdecreeno851.htm#.WC_hbnTXef0
2. Cory's amendment, removal of the salary ceiling and refining the coverage in terms of types of employees and employers:
http://www.chanrobles.com/revised13thmonthpayguidelines.htm#.WC_ha3TXef0
3. 13th month Q&A from the Official Gazette:
:
politics