by allancarreon on Oct.18, 2016, under Film & TV, Queer
Judging based on its hilarious trailer, I went into The Third Party expecting a funny but predictable film. This was produced by Star Cinema, after all – the master of formula films in the Philippines.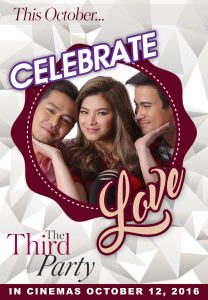 And while I expected good quality acting (particularly from its leading lady) and good quality production values, I have learned to lower my expectations when it comes to generic, rehashed storytelling from this film outfit. Unlike its competitor GMA, ABS-CBN is not known to think outside the box and rarely takes risks, especially when it comes to anything LGBT-themed – where their best efforts seem to be redoing the same old tired Vice Ganda thing.
To be fair, they did have In My Life, which was atypical of Star Cinema in theme, but if you strip away the gay angle, you will see that it still followed formulaic drama.
So it was a pleasant surprise that The Third Party turned out to be not just funny but also not as predictable as I would have thought. Now, it's still definitely nowhere near as groundbreaking or thought-provoking as GMA TV hits My Husband's Lover and Destiny Rose, and in many ways it still seems to have that fear of offending mainstream audiences that results in a bit of holding back, but it's definitely a step in the right direction.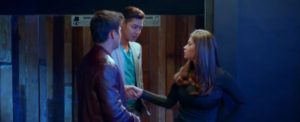 Childhood sweethearts Andi (Angel Locsin) and Max (Sam Milby) broke up years ago because Max chose to pursue his dream of studying medicine abroad and Andi didn't believe in long distance relationships. Fast forward to a few years later, and Max comes back… and this time, he has a boyfriend – the pediatrician Christian (Zanjoe Marudo).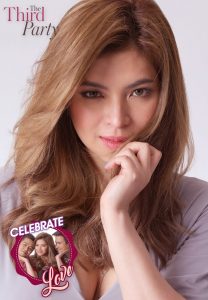 Andi, initially taken aback, learns to accept it, but she is entangled once more in the life of Max when she gets pregnant by a conning ex-boyfriend and is taken in by Christian who wants to adopt the baby, despite Max's apprehensions about becoming a father and the fact that Andi is he ex-girlfriend.
There is definitely a Pusong Mamon vibe to the film, and considering how highly I regard that Lorna Tolentino / Albert Martinez / Eric Quizon classic, it's a positive sign of a movie that is finally trying to break the mold of its production company's prior efforts. There were a number of moments where I thought I knew what was going to happen next – and while a few certainly did (who did not see that kiss coming at the most inopportune of times?), there were plenty more that turned my expectations around. Where I thought they would go into the territory of baby mama drama, they instead chose to veer away from that mid-pregnancy and take the conflict into a different direction.
The characters, despite being in a romcom, do seem more realistically-rendered than most characters in Pinoy mainstream LGBT films. And by this, I don't mean simply their sexualities. They seem like real people who have complexities and flaws – where it's not easy to really say who's right and who's wrong and there is no black or white. When you get around to really analyzing their conflicts, you realize that everyone has a point and that everyone also has a fault. It's not going to be easy to side with one person or the other, as is easy to do with characters from many other movies, because they are all correct and they are all wrong at the same time. Yes, that's how the real world is, honey.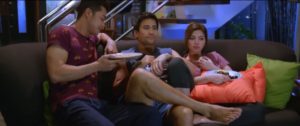 What I appreciate about the film is how it addresses the reality of bisexual people. Bi-erasure is a reality that hurts a lot of our bisexual brothers and sisters, and in fact, even within the LGBT community, some people question the "existence" of bisexuals – claiming that these are just people "in denial" before they finally decide to go fully homosexual. We've all been busy advocating gay, lesbian, and transgender representation, but how much have we really come to acknowledge that bisexuality is also real?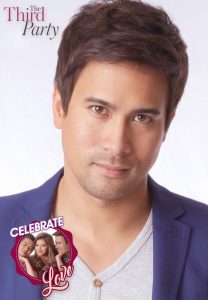 When Max candidly discusses gender fluidity with his sister and he actually drops the term "gender fluid," I could not help but think that, yes, it's a bit anvilicious, but it's also a topic that perhaps needs to be directly stated in order to educate people. It's most definitely a step in the right direction for an audience that likes to think in binaries: male/female, masculine/feminine, straight/homosexual, gay/lesbian. The complexities of human sexuality and gender far exceed such binaries, and it's time we address this in media as well.
The cast was also pretty good, although I could not help but think that Zanjoe was miscast. There is an awkwardness and stiffness to him that, despite his superb acting ability, mars the full potential of the Christian character. He seemed way too serious, even in most of the moments of what should have been levity. Perhaps if this had been Paulo Avelino or Jericho Rosales. Or better yet, Piolo Pascual. Heh.
Angel Locsin is definitely the key acting great here, and between her and Zanjoe (despite his seeming like an actor playing a part as opposed to being the character, he still delivers), Sam seems inferior in comparison sharing the screen with them. That said, Sam still manages to hold his own.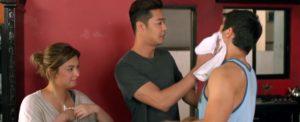 The supporting cast is also strong, if underused. Matet De Leon and Beauty Gonzalez, in particular, are always comedic gold, and it is a shame that they were not fully utilized to their potential in this film. Cherry Pie Picache, Al Tantay, and Carla Martinez are acting legends, so they require no further praise as they are that great, and Alma Moreno – who should stick to acting and should abandon politics – is funny as well.
The star of the show, however, is the story and how it was delivered, so I would say kudos to writers Charlene Sawit-Esguerra and Patrick John Valencia (from a story by Enrico Santos) and director Jason Paul Laxamana. This is the type of LGBT direction we need to be taking in mainstream media.
Is this movie perfect? No, of course not.
The constraints of marketing to a still mainstream audience have caused certain aspects of the film to be toned down (really? just one kiss between the two guys who have been living together for three years?). It also seems to fall too much on the other end of the spectrum that loves to cry out, "We're not stereotypical! Look at these macho, macho gender fluid men!" as an answer to the Vice Ganda school of gay representation. A couple of gay words do not a gay man make. It also seems unusual that Max and Christian do not seem to have friends of their own.
Still, over-all, The Third Party is entertaining, funny, and at the same time, touching. I recommend that you watch it, no matter what part of the sexual spectrum you're in right now.
My Rating: 8.5 out of 10 Stars
Starring: Angel Locsin, Sam Milby, Zanjoe Marudo, Alma Moreno, Cherry Pie Picache, Al Tantay, Carla Martinez, Matet De Leon, Beauty Gonzalez, Odette Khan
Directed By: Jason Paul Laxamana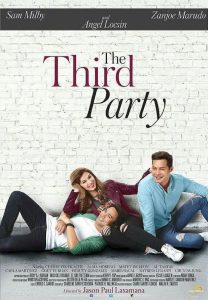 :Angel Locsin, Sam Milby, The Third Party, Zanjoe Marudo