by allancarreon on Oct.11, 2016, under My Life, Society

If you want to be a propaganda machine pretending to be knowledgeable about things that you have no idea about, I suggest you either do your research to get your facts right or else just stick to what you know (which is obviously minimal).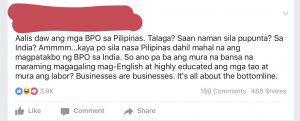 As a BPO professional who has been working in the industry for about fifteen years, I can tell you that:
1. India remains to be a cheaper labor destination. Aside from base cost, they also have longer workdays (10 hours, I believe) and are not necessarily obliged to provide OT pay. Higher production output, lower cost: it's a businessman's dream.
2. The Philippine advantage is value for cost. We're a bit more expensive than India, but the added cost is offset by: (a) a stronger service culture, as Filipinos are more known for hospitality and a generally positive approach towards customers, (b) a stronger affinity for Western culture; (c) our US English (as opposed to British English) that is typically neutrally-accented and is preferable for US-based clients, which still make up a good bulk of the market; and (d) from my experience, many expats prefering to travel and stay here than India.
We also have a higher literacy rate (over 90%), although India still has a higher employable labor population.
3. Outsourcing to the Philippines is indeed growing faster now compared to India, which still does have the lion's share.
However, an unstable political and economic environment can and will neutralize whatever value advantage we have, especially if your government is insulting the West and is insinuating getting into bed with communist countries.
Risk management is also key in running a multinational company, and if things continue the way they are now, the risk of doing business here will go up.
Any value-for-money is lost in a business-toxic climate, and so a company will then choose the cheaper destination. If not India, well… Eastern Europe, Latin America, and Africa are emerging markets. They are catching up; we have advantages which can be dropped depending on the situation.
So I guess I would agree with one thing from that inane statement: businesses are businesses, and if we're talking solely "bottomline," it skews heavily in favor of India.
To maintain our global language and service advantage, we also need to ensure we have a business-friendly environment.
And this, ladies and gentleman, is what we call #fact.
—
Identity of the personality who posted the FB statement is hidden because it's best not to feed a propaganda machine, and further promoting stupidity is just socially-irresponsible.

:
BPO