by allancarreon on Sep.23, 2016, under Society
No, "love of president" is not automatically "love of country" (or vice-versa). Otherwise, then you never loved your country all the times you criticized Duterte, or PNoy, or GMA, or Erap, or Ramos, or Cory, or Marcos, during their time. How fallacious.
This kind of rhetoric is foolish and dangerous, one that has only been propagated by the likes of Hitler, Stalin, and ancient pharaohs who had set themselves up as gods.
This kind of rhetoric is the kind that allows cults to form and to subsequently elevate the likes of David Koresh, Jim Jones, and Joseph Di Mambro into the realm of the infallible. Do you know what happened to their followers?
Democracy is checks and balances. When there is no criticism of the establishment, democracy is dead.
When there is a distinct lack of criticial thinking – when one's allegiance is to personalities (whether it be Duterte, PNoy, GMA, Erap, Ramos, Cory, or Marcos; whether it be to De Lima or to Cayetano) and not an allegiance to what is right and wrong – one becomes nothing more than a puppet.
And when we ourselves are the ones who propagate such rhetoric, then we join the ranks of Goebbels and Squealer. If you find these personas (real and fictitious) to be great role models, then we have a further understanding of your character. If you don't know these personas, I suggest reading things other than Facebook.
Love of country is love of its people, not of a single personality. In fact, allegiance to a nation trumps allegiance to one politician.
If we are in any way educated or well-read, then we should know what happens to societies that rely on cults of personalities.
They fall.
(Originally posted on my personal FB timeline.)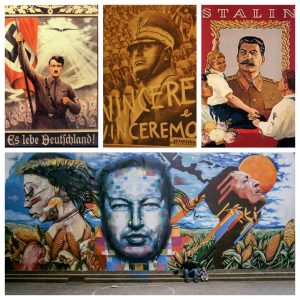 :Cult of Personality, politics