by allancarreon on Sep.22, 2016, under Film & TV, Society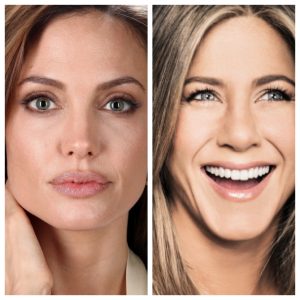 People on social media dragging Jennifer Aniston's name into the Brangelina divorce just for "a laugh" are pathetic.
It's been over ten years, she's clearly moved on, and her husband Justin Theroux is way hotter than Brad (#sorrynotsorry). I'm almost sure she barely gives a fuck, if at all. And while I'm not a big fan of Jennifer (despite being a Friends fanatic, she was my least liked person on the show), the woman is in a vastly different place now, and she deserves peace and happiness after a successful career.
As for Angelina, while she may have made mistakes back then, she's gone through a lot since, and she's also in a very different place right now. She has proven to be one of the world's most influential and strongest women – not just in acting and directing but also across various other fields, including the academe as well as humanitarian work. To conveniently forget all that she has achieved as a woman and as a human being to dig out a (rumored) indiscretion when she was younger is foolish.
To reduce these two amazing, independent ladies who became icons and role models for women around the world into just a pair of petty, catfighting "bitches" (one a vengeful, bitter ex-wife and the other an evil, malicious homewrecker) over a virile man smacks of downright sexism and misogyny.
Meanwhile, folks are joking about "lining up" for Brad Pitt because, you know, it's never the handsome stud's fault.
P.S. I've also seen at least a couple of jokes saying that the couple will now be returning their kids to their countries, with one even joking about having the price tag still on. Disgusting.
(Originally posted on my personal FB timeline, with slight edits.)

:Angelina Jolie, Brad Pitt, Brangelina, Jennifer Aniston