by allancarreon on Sep.03, 2016, under Film & TV, Literature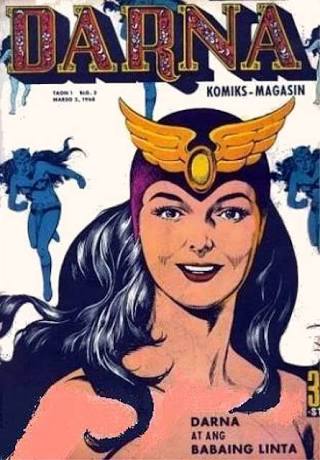 Aside from a comment here and there as well as a shared post or two, I hadn't really been planning to write much about the whole controversy involving the upcoming GMA TV show Alyas Robin Hood, a series whose 15-second teaser trailer evoked visuals that are straight out of Arrow.
Do I believe the visuals are a rip-off? Yes. Don't tell us that no one has a sole claim on the color green. Anyone with eyes and not in denial can clearly see that production practically copied the CW show's version of the character from the outfit to the overall feel. Please.
How about the story? We cannot really say because the show hasn't started yet, but I will point out that – based on a synopsis online – it doesn't sound much like Arrow. It actually sounds like the premise of Will Eisner's pulp hero The Spirit. Uhm, yey?
That said, one particular rant of a high-profile creative from the said network caught my eye. This said person, who has been on such a defensive talakera mode on her social media account the last couple of days that one expects her mouth to be frothing, proclaimed that Filipino comics are dead.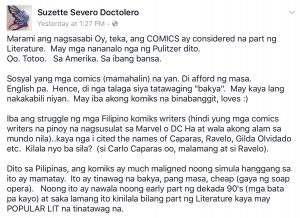 😐😐😐
Yes, Pinoy comic books are dead because the likes of award-winning, fantastic, and literary Filipino comic book works like Carlo Vergara's ZsaZsa Zaturnnah, Budjette Tan and Kajo Baldisimo's Trese, Mervin Malonzo's Tabi Po, Paolo Chikiamco's Mythspace, among others, are all just figments of our imagination.
🙄🙄🙄
These comics may not have won Pulitzers, but many of them have gotten recognition from different award-giving bodies as well. Or are we saying that the only award-giving bodies that matter are American ones?
The old "komiks" were not expensive? Really? Maybe not as much as imported ones, but they were not cheap entertainment either. I remember buying Funny Komiks and Hiwaga Komiks for around Php2-Php5 in the 80s. Factor in inflation, and they would likely cost just a little less than what modern Filipino comics cost (especially if you factor in quality of paper as well as length of material then and now).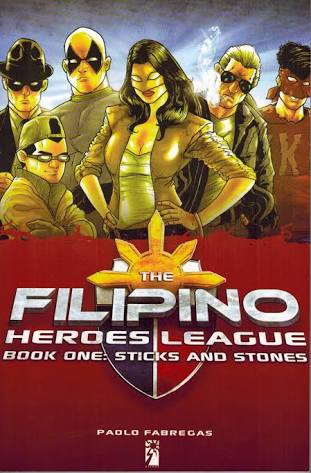 The Pinoy comics of today may not be the same as the old Darna komiks or such, but this is evolution. And when we say that we want to elevate the local film/TV industry by adapting something literary, why go for the Western Robin Hood when the local literature and comics industry also needs elevating? Why not mine local talent?
Too lazy to do research on what award-winning local literature we also have? Let's jump to Arrow, sorry, Robin Hood instead?
Filipino comics are not just Darna and Captain Barbell. Moreover, Filipino comics are now even becoming the subject of academic studies. Filipino comics are still alive, but some morons just refuse to see it. Are these fools not as guilty as the people who've proclaimed local television is dead when it clearly is not?
If we want people to respect the local television industry, then we should also respect other local industries such as literature, both traditional and graphic. In fact, local literature is struggling even more than television or film, and for a TV creative to write it off so easily just makes her as guilty as the people she's ranting about.
It is not wrong to adapt foreign material. We would be deprived of the beauty of Shakespeare, Wilde, and many more otherwise. However, to fully categorize an entire segment of local literary material as "dead" is exactly the same sin committed by people who criticize the local film/TV industry as dead.
At a time when local comics have been producing high quality publications in the last decade, such arrogance is nothing but ignorant.
:comics, Filipino comics