by allancarreon on Jul.10, 2016, under My Life, Travel & Culture
My besties and I have this habit of impromptu drives out of town. Sometimes we go to places nearby, sometimes practically Narnian. One of our absolute favorite destinations is the relatively close Tagaytay.
Since the past few days have been fairly cool because of the Cthulhu-conducive stormy weather, I had a craving for some hot bulalo soup, and what's a better way to have that than having an impromptu evening road trip with the gang as we are wont to do?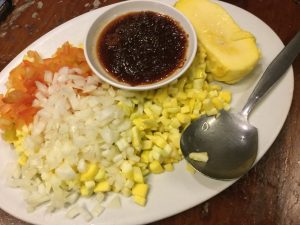 So off we went to Tagaytay, home of lots of places that offer yummy bulalo to counter the cold climate of the environs. Yes, there are actually cold places left in the boiling hot Philippines.
We frequent a lot of different foodie places in Tagaytay, several of them offering bulalo, and this time we chose the popular and ever-reliable Leslie's.
And reliable it still is, and we were not disappointed with any of the items we ordered.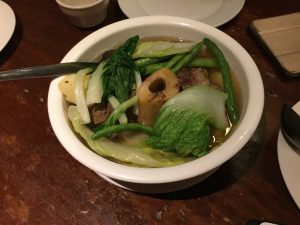 Well, okay, we did get a bit concerned how fast the soup went cold on the first round, so when we requested for a second round, the waiter made sure it was piping hot as it should be. And it was. For a few minutes, anyway. The cold weather just caused it to go lukewarm faster than expected. I guess we couldn't really blame the management for Mother Nature's whims, especially since the damned thing was still tasty as heck – not to mention full of meaty goodness.
But no, I dare not go after the marrow any more. Mahirap na para sa Titas of Manila whose napes could potentially ache for days on end.
We let Beij have it. He just had his check-up.
Attagirl.
Beij is our well-prepared Tita.
Of course, this did not stop us from devouring the crispy pata and toasty pork sisig. Because logic.
Hey, we ordered green mangoes as well as kangkong. That cancels the fat.
Regardless, everything was oh-so-very good, and we inhaled all the food as they arrived.
We were so stuffed we could barely eat more, so we just decided to go to Starbucks afterwards for coffee and tea.
And dessert.
Because logic.
Tagaytay remains to be one of the best comfort places to go to.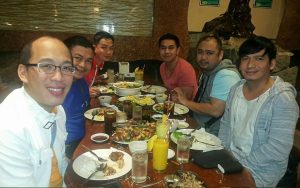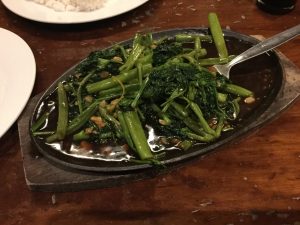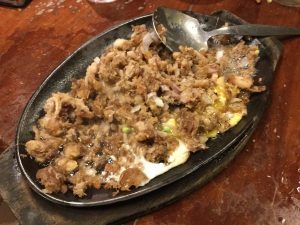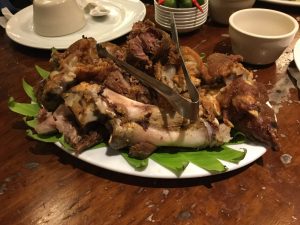 :food trip, Leslie's, Starbucks, Tagaytay