by allancarreon on Jun.29, 2016, under Society, Travel & Culture
On my way to Colombia last February, I had a 4-hour layover through Ataturk Airport in Istanbul, Turkey. From there, I would fly for about 10 hours to São Paulo, Brazil and wait for about 8 hours before the final 6-hour leg to Bogota. Noooo, it wasn't a long trip at all.
I had a fleeting moment of paranoia on the plane from Manila to Istanbul, thinking about the France attacks, the geopolitical climate in Europe and the Middle East, as well as the pockets of terrorist and rebel activities in Turkey itself. What if something happened while I was in Ataturk Airport?
All fears and concerns were dispelled the moment I landed in Turkey and stepped out into the cold breeze. I love the cold. I'm from a tropical country, but I hate the heat and the damned humidity vehemently. This is why I loved traveling to Bulgaria during winter last January, and this is why I loved the cold breeze of Istanbul that dark morning just hours before sunrise.
Although I could only be in the airport, I already could tell how beautiful this old city was. I knew I wanted to see more when I get the chance.
Ataturk happens to be Europe's 3rd busiest airport (11th worldwide), and this was apparent even if it was around 4 or 5am. Compared to Doha airport during a similar timeframe, or late night in São Paulo when most airport stores and restos close down except for Pizza Hut, or even afternoon in Sofia's airport where the traffic of people is limited, Ataturk Airport was alive and breathing with thousands of travellers arriving, departing, transiting, or just simply milling around.
I had about four hours to kill, so I just wandered around. There were a lot of duty-free shops, and I noted which ones I would go back to on the way home the following week for souvenirs.
There was a food court with a wide variety of choices – including several Asian options. Outside the court, there were a lot of standalone restaurants and cafes, including Starbucks which, well, are we really surprised?
I decided to settle down in Carluccio's, an Italian restaurant that just seemed so very inviting. I also wanted to recharge all my electronics and power banks as the Turkey/Brazil leg would be long. Of course, getting on Facebook was a must, wasn't it? It also always amazed me how fast and free WiFi was in many other cities not called Metro Manila.
A very handsome waiter took my order. These Turkish men sure look gorgeous. You could not glance around without seeing at least ten beautiful guys. As with Sofia, and later on with São Paulo and Bogota, I was tempted to migrate.
My waiter, whose name I later remembered for weeks after but now cannot remember (ah, fleeting love), was very attentive. He was even concerned when he saw that I hadn't finished my risotto, thinking I didn't like it when in fact it was so delicious. If he only knew me, he would know I wouldn't have let such good food go to waste, but unfortunately the portion was so big that even I – who could eat tons of food – could not finish it.
But F (let's call him F because I'm pretty sure his name starts with an F – something like Furkhan) was still very pleased when I told him so.
He also made sure I was well-cared for even if all I really needed was a working electrical outlet for a couple of hours. He listened intently as I told him I was Filipino, I was going to Brazil then Colombia, and so forth. I had to stop myself from falling in love right there and then because I was just transiting and did not want to find myself in some kind of romcom about strangers falling in love in a strange airport and then tragically getting separated by circumstance before reuniting and riding off into the sunset and you just know I fantasized about this way too much and am now rambling.
A week later, returning from my business trip, I was back. After getting amazing souvenirs for family and friends (you'd think I'd gone to the city and not on a mere well-placed layover), I again found myself in Carluccio's eating the same delicious risotto.
F saw and remembered me. He seemed excited to see me again, or maybe it was just me projecting. But yes, he was at least happy to see a returning customer he recognized, and he asked about my trip. I had to stop myself from falling in love right there and then because I was just transiting and did not want to find… oh, you know the drill.
I left Ataturk with a resolve to visit Istanbul itself in the future. It is, after all, a city full of history and culture, and the few hours I spent just in the airport were enough to tell me I must go back.
I could not wait to see all the beauty and wonders that Istanbul could offer.
Earlier this morning, I woke up to the news that Ataturk Airport had been attacked by three suicide bombers. As of this writing, 41 have been confirmed dead and over 200 injured. The primary suspect is ISIS, although Kurdish separatists have not been completely ruled out.
This attack hit me closer to home than I would have expected. Perhaps it was the thought that it could have happened when I was there in February, especially considering the fleeting moment of paranoia that I had the first time. Perhaps it was the thought that I'd been to those very shops that they've now been showing on the news and social media
And I also think about F, wondering if he was there when it happened and wondering if he's safe.
It's a broken world where you have to wonder if one good person somewhere out there is safe and alive because of the mindless evil of a few. Imagine it: just one good person you met in passing while in a strange land, one good person whom you fondly remember, and one good person whose fate in a sudden tragedy you're unable to determine.
And it's a broken world where you have to multiply that one good person to many: the many good and innocent people – strangers, perhaps, but people nonetheless – whose lives touched someone else's some way, somehow, and whose lives were endangered or lost just because a plague of evil is spreading through society.
But no matter how broken the world may be, we know that it's a world where goodness and innocence still deserve to be fought for.
Turkey is still in my bucket list. We cannot let evil scare us off the beauty and good people that this world has to offer. We cannot let the threat of the fallen take us down with them. We cannot let evil win.
See you in the future, Istanbul.
Biz Türkiye ile ayaktayiz.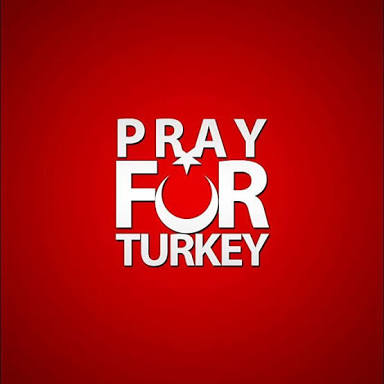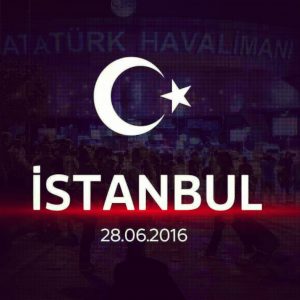 :Ataturk Airport, Carluccio's, Istanbul, terrorist attack, Turkey