by allancarreon on Jun.17, 2016, under Film & TV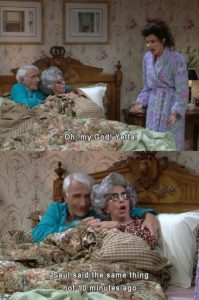 Yetta: Read me my horoscope.
Fran: Oh, OK. Ah, "Scorpio. Tomorrow, you will awaken…"
Yetta: [excitedly] Whoo-hoo!
– The Nanny, Season 5 Episode 9
She will always be one of the best and most hilarious grandmas on TV other than the Golden Girls.
Have a good sleep, Yetta. You may no longer awaken tomorrow, but you deserve the well-earned rest.
Don't smoke too much in heaven.

:Ann Morgan Guilbert, The Nanny, Yetta